CRASH & BURN has a new cover!  And it's in mass market paperback! Whoo hoo!
THE EXECUTIONER – New Improved version!  For General Release March 6 2016


Trusting your ex is relative when you're running from a killer…
A team-building exercise at a remote location reignites the heat between former lovers Madeleine Smith and Nicholas Garabaldi. When team members start dying they must learn to trust again before they can outwit whoever is killing off the group one by one. Is this the 'Executioner' from the indigenous Dreamtime legend of the local Bibulmun tribe? Or is it someone closer to home?
Click HERE for Totally Bound Publishing and to read an excerpt
Available HERE from Amazon.Com
Publisher's Note: This book has previously been released elsewhere. It has been revised and re-edited for re-release with Totally Bound Publishing.
"Suspense, a crazy killer, and some sizzling sex make The Executioner an exciting story…" Nanette, Joyfully Reviewed
CRASH & BURN
A cop with a mission. A woman with no memory. A killer who hunts them both.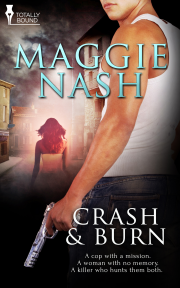 Plagued by nightmares of a train crash, Beth Hamilton returns to the scene of the accident and finds herself fleeing from a deadly enemy she can't remember. An unlikely partnership with sexy cop Daniel Wyatt triggers a dangerous chain of events. She must learn to trust her instincts, because when she's running for her life, the enemy might be closer than she thinks.
Publisher's Note: This book was previously published elsewhere. It has been significantly expanded, revised and re-edited for release with Totally Bound Publishing.
General Release Date: 29th September 2015
Available HERE from Totally Bound Publishing (And read an excerpt!)
Available HERE from Amazon.com
THE DREAM MASTER
Working undercover and pretending to be lovers with his long-time work partner should have been a piece of cake—except good ole 'Hels' wasn't the person Dimitri thought she was.
Police detective Helena Peters has been secretly in love with her partners for years. It doesn't help that he never looks at her as anything other than his work partner. What would he do if he discovered what she was really thinking?
His classic Greek looks were responsible for Dimitri Michaels' arrogant success with women, so going undercover and pretending to be lovers with Helena should be a piece of cake, but she isn't the person he thought she was.
Why was the only girl in his dreams now the only one who'd been right under his nose for years? More to the point, can he keep her safe long enough to convince her what he feels for her isn't an act?
Click HERE to read an excerpt and buy the book!